TELEHOUSE LONDON Docklands West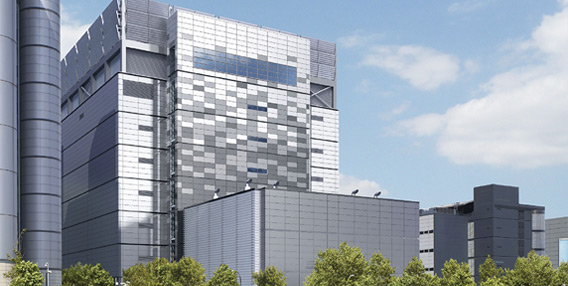 TELEHOUSE LONDON Docklands West opened in April 2010, this flagship data center is an additional home to the London Internet Exchange hosting a brand new peering switch platform designed for powerful low-latent connectivity. With approximately 5,000 m2 of colocation space, TELEHOUSE provides an ideal environment for primary as well as a disaster recovery/backup site. Already hosting leading financial institutions, media/content and cloud providers, TELEHOUSE West is designed for the data-critical corporation.
A nine storey data center with 19,000 m2 made up of technical and customer space. The new facility offers a 'localised data center environment' for each of the five tenant floors; consisting of rackspace and individual power/cooling provision, resulting in lower risk of failure to service. Each floor (consisting of a concrete subfloor) is capable of loading 1.5 tonnes per sqm, designed for heavy plant equipment.
Colocation & Hosting:

TELEHOUSE West can provide Shared Facilities Management (SFM),Dedicated Facilities Management (DFM) and high density rack hosting up to 10kW.
Fully managed half rack service with best of breed hardware.
TELEHOUSE provide hardware supply and maintenance service through gold partnerships with leading vendors.

Power:

Average power per rack - 4kW
Four redundant HV power systems, from separate grids to each building on the Docklands site
8 x 2.5MVA 11kV Generators with N+1 redundant standby generators with a minimum of 24 hours autonomy at full capacity
2 (N+1) redundant UPS floor by floor
Redundant A & B power feeds to customer equipment
On-site primary substation with total capacity of 50MVA with cooling and two132kV power lines directly connected to the National Grid with two transformers providing N+N redundancy.

Environment and Air Conditioning:

6 x 2.7MW chillers N+2 configuration
Room Air Conditioning Units (RACUs) to provide down-flow chilled water system at N+25%
RACU with bunded floor area and water leakage detection and monitoring
Hot aisle/cold aisle zone design
900mm raised floor design with airflow space to provide the most efficient cooling
Free cooling operation in winter
Maximum external ambient temperature of 35 degrees Celsius dry bulb
The in-room units will provide full function, closed control air conditioning, with cooling, humidity and de-humidification control.

Connectivity:

Availability of wide connectivity to major telecoms and network service providers and offers customers connectivity to any telecom presence in the TELEHOUSE data centers.
Connectivity to 2 meet me rooms offering true diversity directly connectable from each tenant floor
Hosts the London Internet Exchange peering platform allowing low-latency connectivity
In 2012, LINX doubled the bandwidth capacity to 9.6TB at TELEHOUSE

Fire Detection & Suppression:

Data center areas are fitted with a fully addressable two stage fire detection system that monitors both under-floor and the room itself
Detectors with 50% mix of optical and ionisation are split across 2 separate zonal-loops, to meet BS 5839, 6266, 5445 and 5588
Very early smoke detection alarms (VESDA) installed throughout the facility
Dry sprinkler fire detection system to meet BS 5306, 3115 and with LFEPA approval. Dry sprinkler is the main fire suppression method employed
The systems are designed to minimise any possible customer disruption and to ensure that any minor problems remain localised

Security System:

Independent client card identification access system
Secure & monitored single-person point of entry, physically guarded 24/7 and integrated digital video camera surveillance
Proximity card access is provided from the main data center building and is issued to provide access only to authorised facilities management suites
Strict security processes are in place to ensure delivery and loading of goods are secure
CCTV coverage for the perimeter, common areas and facilities management suites

Environment:

The TELEHOUSE London Docklands site is powered by 100% renewable energy
TELEHOUSE West has a built in waste heat exchange system facility to reuse lost heat to distribute to third parties and also pre-cool the chilled water, thus reducing both chiller and dry air cooler power requirements.

Certifications:

ISO 9001:2008 Quality Management Standard
ISO/IEC 27001:2005 Information Security Management
PCI – DSS (Payment Card Industry – Data Security Standard) Attestation
BS 25999-2:2007 Business Continuity Management
ISO 14001 Environmental Standard and the Carbon Trust Standard
Connectivity
| | North | East | West | Metro |
| --- | --- | --- | --- | --- |
| AboveNet (Zayo) | ✓ | ✓ | ✓ | ✓ |
| ANLX (Associated Networks) | ✓ | ✓ | ✓ | ✓ |
| AOL | ✓ | | | |
| Arbinet | ✓ | ✓ | | |
| Azzurri | ✓ | ✓ | ✓ | ✓ |
| Avensys Networks | ✓ | ✓ | | |
| Adapt Services | ✓ | ✓ | | |
| Akhter Computers | | ✓ | | |
| Africa INX | | ✓ | | |
| Andrews & Arnold | ✓ | | | |
| Ask4 | ✓ | ✓ | | |
| AT&T | | ✓ | | |
| Avanti | | ✓ | | |
| Belgacom | ✓ | ✓ | ✓ | |
| British Telecom | ✓ | ✓ | ✓ | ✓ |
| BT Ireland | ✓ | | | |
| Bharti Airtel | | ✓ | | |
| BSO Network | | ✓ | | |
| Bogons | ✓ | ✓ | | ✓ |
| C4L (Connexions4london) | | ✓ | | ✓ |
| Cable & Wireless | ✓ | ✓ | | ✓ |
| ClemCom | | ✓ | | |
| Cogent | ✓ | ✓ | ✓ | ✓ |
| COLT | ✓ | ✓ | ✓ | ✓ |
| ClaraNet | ✓ | ✓ | | |
| Clear IP Networks | | ✓ | | |
| Coolwave Communications | ✓ | | | |
| ChungHwa Telecom | ✓ | | | |
| CMC Networks | ✓ | | | |
| Cobweb | | ✓ | ✓ | |
| Coreix | | ✓ | | |
| Datahop | ✓ | ✓ | | ✓ |
| Domainmaster | ✓ | ✓ | | |
| Domicilium | ✓ | | | |
| Dimension Data (Internet Solution Pty) | | ✓ | | |
| Easynet | ✓ | ✓ | | |
| Eircom | ✓ | ✓ | | |
| Entanet | | ✓ | | ✓ |
| Epsilon | ✓ | ✓ | ✓ | ✓ |
| Equant (Orange Business Services) | ✓ | ✓ | | |
| Exponential-e | ✓ | ✓ | ✓ | |
| Etelia SPA | | ✓ | | |
| Edge Telecom | ✓ | ✓ | | ✓ |
| Elion Ettevotted | | ✓ | | |
| FLAG | ✓ | ✓ | | |
| France Telecom (Orange Business Services) | ✓ | ✓ | | |
| Fastnet | ✓ | ✓ | | |
| Farice | ✓ | ✓ | ✓ | |
| GEO | ✓ | ✓ | ✓ | ✓ |
| Gamma telecom | ✓ | ✓ | | |
| Genesis Networks | | ✓ | | |
| Griffin Information Systems | ✓ | | | |
| GX Networks | ✓ | ✓ | | |
| Hutchison | ✓ | | ✓ | |
| Highspeed Office | | ✓ | | |
| Hurricane Electric | | ✓ | | |
| Highwinds Network | ✓ | | ✓ | |
| Interoute (i-21) | ✓ | ✓ | ✓ | ✓ |
| Intelsat | ✓ | | ✓ | |
| Iceland Telecom | ✓ | ✓ | | ✓ |
| Internode | ✓ | | | |
| Iomart (Rapidswitch) | ✓ | | | |
| Jazz Telecom | ✓ | ✓ | | |
| KDDI | ✓ | ✓ | ✓ | ✓ |
| Kingston Communications | ✓ | ✓ | | |
| KPN | | ✓ | | |
| Korea Telecom | ✓ | | | |
| Level 3 | ✓ | ✓ | ✓ | ✓ |
| LambdaNet | | ✓ | | |
| Limelight Networks | ✓ | | | |
| LINX | ✓ | ✓ | ✓ | |
| Linx Telecom | ✓ | | | |
| Lonap | ✓ | ✓ | | |
| Mundion Mobile | ✓ | | | |
| Mzima Networks | ✓ | | | |
| Mailbox | ✓ | | | |
| Magrathea | | ✓ | | |
| MTN Network | | ✓ | | |
| Mweb | ✓ | | | |
| NetConnex | ✓ | ✓ | | |
| Newtelco | ✓ | ✓ | ✓ | |
| NTT | | ✓ | | |
| Net-work Internet | | ✓ | | |
| NewNet | ✓ | ✓ | | |
| Navisite Europe | ✓ | | | |
| NeoTelecoms SAS | ✓ | | | |
| Nerim | | ✓ | | |
| Netcetera Ltd | ✓ | | | |
| Netrino UK | ✓ | | | |
| Noris Network AG | | ✓ | | |
| Opal Telecom | ✓ | ✓ | | |
| O2 | | ✓ | ✓ | |
| Onyx Internet | ✓ | | ✓ | |
| Opal Business Solutions | ✓ | ✓ | | |
| OrbitalNet | ✓ | | | |
| PO Box Hosting | ✓ | ✓ | | |
| PT Communicacoes | | ✓ | | |
| Packetexchange | ✓ | ✓ | | |
| PCCW | ✓ | ✓ | | |
| PlusNet | ✓ | | ✓ | |
| Peer1 Network | | ✓ | ✓ | |
| Redstone | ✓ | | | |
| Reliance Globalcom | ✓ | | | |
| RETN | | ✓ | | |
| RM Education | ✓ | | | |
| Routo | | ✓ | ✓ | |
| Safarifone | | ✓ | | |
| Sprint | ✓ | | | |
| SSE Neosnetworks | ✓ | ✓ | | ✓ |
| Star Technology | ✓ | | | |
| Solutios | | | | ✓ |
| Suburban Telecom | ✓ | | | |
| Skymarket | | ✓ | | |
| Smart Communications | | ✓ | | |
| TDC | ✓ | ✓ | | |
| Telefonica | ✓ | ✓ | ✓ | |
| TeliaSonera | ✓ | ✓ | ✓ | ✓ |
| Thus | ✓ | ✓ | | ✓ |
| TINet | ✓ | | | |
| T-Systems | ✓ | ✓ | | |
| 2Connect Bahrain | ✓ | | | |
| TATA | ✓ | ✓ | | |
| TalkTalk | ✓ | ✓ | | |
| TMI Telemedia (Telecom Italia) | ✓ | | ✓ | |
| TransTK | | ✓ | | |
| Telstra | ✓ | ✓ | | |
| Tele2 | ✓ | ✓ | | |
| Timico | ✓ | | | |
| UPC | | | ✓ | |
| UK Grid Network Ltd | | ✓ | | |
| Verizon | ✓ | ✓ | ✓ | ✓ |
| VTL (Viatel) | ✓ | | | |
| Vodafone | ✓ | ✓ | | |
| Vanco | ✓ | ✓ | | |
| Virgin Media | ✓ | ✓ | ✓ | ✓ |
| Vtesse | ✓ | | | |
| VoxTelecom | | ✓ | | |
| Wavecrest | ✓ | ✓ | | |
| WinWeb International | ✓ | | | |
| Wi-Man | ✓ | | | |
| Xtraordinary Networks Ltd | | ✓ | ✓ | |
| Zen Internet | ✓ | ✓ | | |