TELEHOUSE Metro
Metro is one of three TELEHOUSE datacenters in London and is based in the heart of the City. It is ideal for organizations that require secure, high quality, datacenter space and offers the ideal environment as your primary or secondary site.
Metro is a modern facility that enjoys high levels of security, power, cooling, connectivity and technical support to put your mind at ease.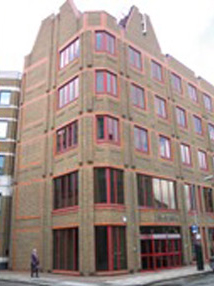 Key Benefits:

Risk mitigation Housing your IT equipment in a secure off-site environment makes your business less vulnerable to physical loss or damage of critical business systems.
System availability High quality e space datacenter environments, with redundant power and cooling systems, and engineers on site 24 hours a day, add a new level of reliability to system availability.
Cost of office Business are finding that locating their IT infrastructure within their City offices incurs ongoing costs that are hard to justify.
The demands of new technology New server and storage technology is demanding more power and air-conditioning to be able to operate, and the costs of refurbishing and upgrading an IT environment local in office space can be huge.
Carrier connectivity Excellent local carrier connectivity is enhanced by a fiber link between Metro and our Docklands based datacenters; this ensures access to an even more extensive range of cost-effective carrier connectivity.
Neutrality A neutral point of interconnect and a major hub for business operating in the UK and European markets.

Along with:

Monitoring and preventative maintenance
Secure site access and control
Operational 24/365
Skilled engineers providing 24hr technical support

Technical Specification:

Total Area: 840 sq
On-Site Carriers: Multiple carrier choice from the UK, European and global carriers
Site monitoring: 24 x 7 x 365
Security: Proximity Card Reader Access Control, Video Surveillance
General Fuel Reserve: 24 hours at full load
Argonite
Cooling system: Chilled water
Floors: Raised Flooring Throughout

Colocation:

Colocation facilities offer space within a managed environment, providing security, resilience and communication lines. Colocation facilities can be neutral or carrier owned. A neutral site such as TELEHOUSE Metro provides the benefit of connection to your choice of telecom carrier.
Connectivity
| | North | East | West | Metro |
| --- | --- | --- | --- | --- |
| AboveNet (Zayo) | ✓ | ✓ | ✓ | ✓ |
| ANLX (Associated Networks) | ✓ | ✓ | ✓ | ✓ |
| AOL | ✓ | | | |
| Arbinet | ✓ | ✓ | | |
| Azzurri | ✓ | ✓ | ✓ | ✓ |
| Avensys Networks | ✓ | ✓ | | |
| Adapt Services | ✓ | ✓ | | |
| Akhter Computers | | ✓ | | |
| Africa INX | | ✓ | | |
| Andrews & Arnold | ✓ | | | |
| Ask4 | ✓ | ✓ | | |
| AT&T | | ✓ | | |
| Avanti | | ✓ | | |
| Belgacom | ✓ | ✓ | ✓ | |
| British Telecom | ✓ | ✓ | ✓ | ✓ |
| BT Ireland | ✓ | | | |
| Bharti Airtel | | ✓ | | |
| BSO Network | | ✓ | | |
| Bogons | ✓ | ✓ | | ✓ |
| C4L (Connexions4london) | | ✓ | | ✓ |
| Cable & Wireless | ✓ | ✓ | | ✓ |
| ClemCom | | ✓ | | |
| Cogent | ✓ | ✓ | ✓ | ✓ |
| COLT | ✓ | ✓ | ✓ | ✓ |
| ClaraNet | ✓ | ✓ | | |
| Clear IP Networks | | ✓ | | |
| Coolwave Communications | ✓ | | | |
| ChungHwa Telecom | ✓ | | | |
| CMC Networks | ✓ | | | |
| Cobweb | | ✓ | ✓ | |
| Coreix | | ✓ | | |
| Datahop | ✓ | ✓ | | ✓ |
| Domainmaster | ✓ | ✓ | | |
| Domicilium | ✓ | | | |
| Dimension Data (Internet Solution Pty) | | ✓ | | |
| Easynet | ✓ | ✓ | | |
| Eircom | ✓ | ✓ | | |
| Entanet | | ✓ | | ✓ |
| Epsilon | ✓ | ✓ | ✓ | ✓ |
| Equant (Orange Business Services) | ✓ | ✓ | | |
| Exponential-e | ✓ | ✓ | ✓ | |
| Etelia SPA | | ✓ | | |
| Edge Telecom | ✓ | ✓ | | ✓ |
| Elion Ettevotted | | ✓ | | |
| FLAG | ✓ | ✓ | | |
| France Telecom (Orange Business Services) | ✓ | ✓ | | |
| Fastnet | ✓ | ✓ | | |
| Farice | ✓ | ✓ | ✓ | |
| GEO | ✓ | ✓ | ✓ | ✓ |
| Gamma telecom | ✓ | ✓ | | |
| Genesis Networks | | ✓ | | |
| Griffin Information Systems | ✓ | | | |
| GX Networks | ✓ | ✓ | | |
| Hutchison | ✓ | | ✓ | |
| Highspeed Office | | ✓ | | |
| Hurricane Electric | | ✓ | | |
| Highwinds Network | ✓ | | ✓ | |
| Interoute (i-21) | ✓ | ✓ | ✓ | ✓ |
| Intelsat | ✓ | | ✓ | |
| Iceland Telecom | ✓ | ✓ | | ✓ |
| Internode | ✓ | | | |
| Iomart (Rapidswitch) | ✓ | | | |
| Jazz Telecom | ✓ | ✓ | | |
| KDDI | ✓ | ✓ | ✓ | ✓ |
| Kingston Communications | ✓ | ✓ | | |
| KPN | | ✓ | | |
| Korea Telecom | ✓ | | | |
| Level 3 | ✓ | ✓ | ✓ | ✓ |
| LambdaNet | | ✓ | | |
| Limelight Networks | ✓ | | | |
| LINX | ✓ | ✓ | ✓ | |
| Linx Telecom | ✓ | | | |
| Lonap | ✓ | ✓ | | |
| Mundion Mobile | ✓ | | | |
| Mzima Networks | ✓ | | | |
| Mailbox | ✓ | | | |
| Magrathea | | ✓ | | |
| MTN Network | | ✓ | | |
| Mweb | ✓ | | | |
| NetConnex | ✓ | ✓ | | |
| Newtelco | ✓ | ✓ | ✓ | |
| NTT | | ✓ | | |
| Net-work Internet | | ✓ | | |
| NewNet | ✓ | ✓ | | |
| Navisite Europe | ✓ | | | |
| NeoTelecoms SAS | ✓ | | | |
| Nerim | | ✓ | | |
| Netcetera Ltd | ✓ | | | |
| Netrino UK | ✓ | | | |
| Noris Network AG | | ✓ | | |
| Opal Telecom | ✓ | ✓ | | |
| O2 | | ✓ | ✓ | |
| Onyx Internet | ✓ | | ✓ | |
| Opal Business Solutions | ✓ | ✓ | | |
| OrbitalNet | ✓ | | | |
| PO Box Hosting | ✓ | ✓ | | |
| PT Communicacoes | | ✓ | | |
| Packetexchange | ✓ | ✓ | | |
| PCCW | ✓ | ✓ | | |
| PlusNet | ✓ | | ✓ | |
| Peer1 Network | | ✓ | ✓ | |
| Redstone | ✓ | | | |
| Reliance Globalcom | ✓ | | | |
| RETN | | ✓ | | |
| RM Education | ✓ | | | |
| Routo | | ✓ | ✓ | |
| Safarifone | | ✓ | | |
| Sprint | ✓ | | | |
| SSE Neosnetworks | ✓ | ✓ | | ✓ |
| Star Technology | ✓ | | | |
| Solutios | | | | ✓ |
| Suburban Telecom | ✓ | | | |
| Skymarket | | ✓ | | |
| Smart Communications | | ✓ | | |
| TDC | ✓ | ✓ | | |
| Telefonica | ✓ | ✓ | ✓ | |
| TeliaSonera | ✓ | ✓ | ✓ | ✓ |
| Thus | ✓ | ✓ | | ✓ |
| TINet | ✓ | | | |
| T-Systems | ✓ | ✓ | | |
| 2Connect Bahrain | ✓ | | | |
| TATA | ✓ | ✓ | | |
| TalkTalk | ✓ | ✓ | | |
| TMI Telemedia (Telecom Italia) | ✓ | | ✓ | |
| TransTK | | ✓ | | |
| Telstra | ✓ | ✓ | | |
| Tele2 | ✓ | ✓ | | |
| Timico | ✓ | | | |
| UPC | | | ✓ | |
| UK Grid Network Ltd | | ✓ | | |
| Verizon | ✓ | ✓ | ✓ | ✓ |
| VTL (Viatel) | ✓ | | | |
| Vodafone | ✓ | ✓ | | |
| Vanco | ✓ | ✓ | | |
| Virgin Media | ✓ | ✓ | ✓ | ✓ |
| Vtesse | ✓ | | | |
| VoxTelecom | | ✓ | | |
| Wavecrest | ✓ | ✓ | | |
| WinWeb International | ✓ | | | |
| Wi-Man | ✓ | | | |
| Xtraordinary Networks Ltd | | ✓ | ✓ | |
| Zen Internet | ✓ | ✓ | | |