TELEHOUSE LONDON Docklands East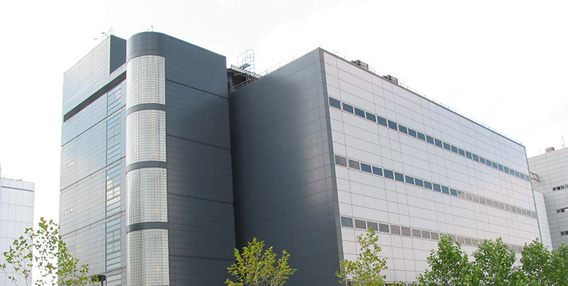 TELEHOUSE East is one of four TELEHOUSE data centers within London and is placed adjacent to the existing sites in the heart of London's Docklands. It is ideal for organizations that require highly connected, low-latency data center space and offers the superlative environment as a primary or secondary site for mission-critical systems. Due to the vast number of carriers and as a home to the London Internet Exchange, TELEHOUSE East is ideally designed for financial trading exchanges, media and content providers that require speed, reliability and reach.
A nine storey data center with 19,000 m2 made up of technical and customer space. The new facility offers a 'localized data center environment' for each of the five tenant floors; consisting of rackspace and individual power/cooling provision, resulting in lower risk of failure to service. Each floor (consisting of a concrete subfloor) is capable of loading 1.5 tonnes per sqm, designed for heavy plant equipment.
TELEHOUSE East is a five storey data center facility offering high levels of security, power, cooling and technical support to put your mind at ease and ensure business continuity.
Opened in 1999, the East facility offers 5,400 m2 highly secure colocation space in London Docklands. TELEHOUSE East benefits from the on-site primary substation, located on the TELEHOUSE Docklands Campus, with total capacity of 50MVA with cooling and two 132kV power lines directly connected to the National Grid reducing transmission losses. All data centers at the TELEHOUSE London Docklands Campus are powered with 100% renewable energy.
Colocation & Hosting:

TELEHOUSE East can provide Shared Facilities Management (SFM) and Dedicated Facilities Management (DFM)

Power:

Average power per rack - 1 to 2kW
2 x multiple diverse power route incoming feeds
5 x Generators with N +1 redundancy
15 mins of UPS battery autonomy with N+1 redundancy

Environment and Air Conditioning:

Air conditioning is provided at N+1 redundancy
The heat rejection system is 30% glycol and condensed water which utilizes dry heat rejection condensers on the rooftop.
Full function, closed control air conditioning system, with cooling, humidity and de-humidification control
Room design temperature: 22 degrees C, plus or minus 1 degree C. Room humidity: 50% rH. Plus 10% or minus 10% rH.
External Temperature Design: 35 degree C Dry Bulb
The East Building works on "A" or "B" pipe work to room with N+N redundant units and N+N pumps.

Connectivity:

Carrier neutral facility offering customers freedom of choice
Direct access to over 100 carriers
With the Interlink Service clients can connect to any carrier from any TELEHOUSE data center
Hosts the London Internet Exchange allowing low-latency connectivity
In 2012 London Internet Exchange doubled its capacity to 9.6TB at the TELEHOUSE site

Fire Detection & Suppression:

Very early smoke detection alarms (VESDA) installed throughout the facility
Fully addressable two stage fire detection system that monitors both under-floor and the room itself
Detectors with 50% mix of optical and ionization are split across 2 separate zonal-loops, to meet BS 5839, 6266, 5445 and 5588
Dry sprinkler fire detection system to meet BS 5306, 3115 and with LFEPA approval.
Ceilings, walls, floors and doors comply with RF90 (fire resistance 90 mins) in DC areas, telecom and plant areas

Security System:

Perimeter protected by alarmed fences and PIR detection.
Gated entrances manned combined with a security management system to ensure no unauthorized access to the site.
Movement activated CCTV coverage for the Perimeter, Entrances and Loading Docks, Common areas reception and corridors and of course our state of the art suites.
Single point of entry to our main facilities controlled by time limited access cards combined with card Independent client card identification access system and integrated digital video camera surveillance.
Proximity card access is provided from the main data center building and is issued to provide access only to authorized facilities management suites.
Strict security processes are in place to ensure delivery and loading of goods are secure.
Doors fitted with alarms that immediately report back to a manned security suite when unauthorized access is attempted or doors are forced or held open.
A highly trained Security presence 24/7 to ensure that you and your nominated staff gain authorized access to the facility whenever you require, day or night

Certifications:

ISO 9001:2008 Quality Management Standard
ISO 14001:2004 Environmental Management System Standard
ISO/IEC 27001:2005 Information Security Management
PCI – DSS (Payment Card Industry – Data Security Standard) Attestation
BS 25999-2:2007 Business Continuity Management
The Carbon Trust Standard
Connectivity
| | North | East | West | Metro |
| --- | --- | --- | --- | --- |
| AboveNet (Zayo) | ✓ | ✓ | ✓ | ✓ |
| ANLX (Associated Networks) | ✓ | ✓ | ✓ | ✓ |
| AOL | ✓ | | | |
| Arbinet | ✓ | ✓ | | |
| Azzurri | ✓ | ✓ | ✓ | ✓ |
| Avensys Networks | ✓ | ✓ | | |
| Adapt Services | ✓ | ✓ | | |
| Akhter Computers | | ✓ | | |
| Africa INX | | ✓ | | |
| Andrews & Arnold | ✓ | | | |
| Ask4 | ✓ | ✓ | | |
| AT&T | | ✓ | | |
| Avanti | | ✓ | | |
| Belgacom | ✓ | ✓ | ✓ | |
| British Telecom | ✓ | ✓ | ✓ | ✓ |
| BT Ireland | ✓ | | | |
| Bharti Airtel | | ✓ | | |
| BSO Network | | ✓ | | |
| Bogons | ✓ | ✓ | | ✓ |
| C4L (Connexions4london) | | ✓ | | ✓ |
| Cable & Wireless | ✓ | ✓ | | ✓ |
| ClemCom | | ✓ | | |
| Cogent | ✓ | ✓ | ✓ | ✓ |
| COLT | ✓ | ✓ | ✓ | ✓ |
| ClaraNet | ✓ | ✓ | | |
| Clear IP Networks | | ✓ | | |
| Coolwave Communications | ✓ | | | |
| ChungHwa Telecom | ✓ | | | |
| CMC Networks | ✓ | | | |
| Cobweb | | ✓ | ✓ | |
| Coreix | | ✓ | | |
| Datahop | ✓ | ✓ | | ✓ |
| Domainmaster | ✓ | ✓ | | |
| Domicilium | ✓ | | | |
| Dimension Data (Internet Solution Pty) | | ✓ | | |
| Easynet | ✓ | ✓ | | |
| Eircom | ✓ | ✓ | | |
| Entanet | | ✓ | | ✓ |
| Epsilon | ✓ | ✓ | ✓ | ✓ |
| Equant (Orange Business Services) | ✓ | ✓ | | |
| Exponential-e | ✓ | ✓ | ✓ | |
| Etelia SPA | | ✓ | | |
| Edge Telecom | ✓ | ✓ | | ✓ |
| Elion Ettevotted | | ✓ | | |
| FLAG | ✓ | ✓ | | |
| France Telecom (Orange Business Services) | ✓ | ✓ | | |
| Fastnet | ✓ | ✓ | | |
| Farice | ✓ | ✓ | ✓ | |
| GEO | ✓ | ✓ | ✓ | ✓ |
| Gamma telecom | ✓ | ✓ | | |
| Genesis Networks | | ✓ | | |
| Griffin Information Systems | ✓ | | | |
| GX Networks | ✓ | ✓ | | |
| Hutchison | ✓ | | ✓ | |
| Highspeed Office | | ✓ | | |
| Hurricane Electric | | ✓ | | |
| Highwinds Network | ✓ | | ✓ | |
| Interoute (i-21) | ✓ | ✓ | ✓ | ✓ |
| Intelsat | ✓ | | ✓ | |
| Iceland Telecom | ✓ | ✓ | | ✓ |
| Internode | ✓ | | | |
| Iomart (Rapidswitch) | ✓ | | | |
| Jazz Telecom | ✓ | ✓ | | |
| KDDI | ✓ | ✓ | ✓ | ✓ |
| Kingston Communications | ✓ | ✓ | | |
| KPN | | ✓ | | |
| Korea Telecom | ✓ | | | |
| Level 3 | ✓ | ✓ | ✓ | ✓ |
| LambdaNet | | ✓ | | |
| Limelight Networks | ✓ | | | |
| LINX | ✓ | ✓ | ✓ | |
| Linx Telecom | ✓ | | | |
| Lonap | ✓ | ✓ | | |
| Mundion Mobile | ✓ | | | |
| Mzima Networks | ✓ | | | |
| Mailbox | ✓ | | | |
| Magrathea | | ✓ | | |
| MTN Network | | ✓ | | |
| Mweb | ✓ | | | |
| NetConnex | ✓ | ✓ | | |
| Newtelco | ✓ | ✓ | ✓ | |
| NTT | | ✓ | | |
| Net-work Internet | | ✓ | | |
| NewNet | ✓ | ✓ | | |
| Navisite Europe | ✓ | | | |
| NeoTelecoms SAS | ✓ | | | |
| Nerim | | ✓ | | |
| Netcetera Ltd | ✓ | | | |
| Netrino UK | ✓ | | | |
| Noris Network AG | | ✓ | | |
| Opal Telecom | ✓ | ✓ | | |
| O2 | | ✓ | ✓ | |
| Onyx Internet | ✓ | | ✓ | |
| Opal Business Solutions | ✓ | ✓ | | |
| OrbitalNet | ✓ | | | |
| PO Box Hosting | ✓ | ✓ | | |
| PT Communicacoes | | ✓ | | |
| Packetexchange | ✓ | ✓ | | |
| PCCW | ✓ | ✓ | | |
| PlusNet | ✓ | | ✓ | |
| Peer1 Network | | ✓ | ✓ | |
| Redstone | ✓ | | | |
| Reliance Globalcom | ✓ | | | |
| RETN | | ✓ | | |
| RM Education | ✓ | | | |
| Routo | | ✓ | ✓ | |
| Safarifone | | ✓ | | |
| Sprint | ✓ | | | |
| SSE Neosnetworks | ✓ | ✓ | | ✓ |
| Star Technology | ✓ | | | |
| Solutios | | | | ✓ |
| Suburban Telecom | ✓ | | | |
| Skymarket | | ✓ | | |
| Smart Communications | | ✓ | | |
| TDC | ✓ | ✓ | | |
| Telefonica | ✓ | ✓ | ✓ | |
| TeliaSonera | ✓ | ✓ | ✓ | ✓ |
| Thus | ✓ | ✓ | | ✓ |
| TINet | ✓ | | | |
| T-Systems | ✓ | ✓ | | |
| 2Connect Bahrain | ✓ | | | |
| TATA | ✓ | ✓ | | |
| TalkTalk | ✓ | ✓ | | |
| TMI Telemedia (Telecom Italia) | ✓ | | ✓ | |
| TransTK | | ✓ | | |
| Telstra | ✓ | ✓ | | |
| Tele2 | ✓ | ✓ | | |
| Timico | ✓ | | | |
| UPC | | | ✓ | |
| UK Grid Network Ltd | | ✓ | | |
| Verizon | ✓ | ✓ | ✓ | ✓ |
| VTL (Viatel) | ✓ | | | |
| Vodafone | ✓ | ✓ | | |
| Vanco | ✓ | ✓ | | |
| Virgin Media | ✓ | ✓ | ✓ | ✓ |
| Vtesse | ✓ | | | |
| VoxTelecom | | ✓ | | |
| Wavecrest | ✓ | ✓ | | |
| WinWeb International | ✓ | | | |
| Wi-Man | ✓ | | | |
| Xtraordinary Networks Ltd | | ✓ | ✓ | |
| Zen Internet | ✓ | ✓ | | |