TELEHOUSE VIETNAM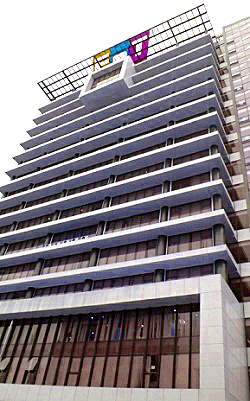 TELEHOUSE VIETNAM is a joint venture between FPT Information Systems (FPT IS), leading provider of ICT solution around the world, KDDI Corporation and Mitsui & Co Vietnam Ltd.

TELEHOUSE VIETNAM provides world-class data-center services, facilities and operations under the brand name of "TELEHOUSE". The services provide include server co-location, managed services, and other offerings tailored to specific needs, enabling customers to streamline operations and reduce IT costs.

With the expanding business of MNCs in Vietnam, the need for local back-up facilities to retain business continuity is raising sharply. There has been a rapidly increasing demand for information communications infrastructure configuration and operations support cored on highly reliable data centers among many corporations. TELEHOUSE VIETNAM, with TELEHOUSE standards of global quality, which cover a wide ranges of conditions including facilities, operation, security and quality management, meets the above customers' requirements. For systems that incorporate data centers as one element, KDDI and FPT IS will collaborate with TELEHOUSE VIETNAM to offer comprehensive planning, design, maintenance and consultation covering total system integration and solutions.
Features

Power


Power reception via loop distribution
N+1 redundant diesel generator with a minimum of 72 hours autonomy at full capacity
N+1 redundant UPS system capacity at 15 minutes fully charged
Standard power per rack at 2.0 KVA with scalable options up to 4.0KVA
Availability of dual power feeds for a single rack

Cooling


State-of-the-art high-volume air-conditioning system
N+1 redundant climate control configuration
Hot aisle/Cold aisle zone design
Independent humidity and de-humidification control system






Security


24/7 on-site personenel monitoring security of premises
24/7 CCTV surveillance cameras isstalled around data center
Photo identification required for site access
Biometric authentication by finger-print verification at the entrance of customer space
IC card issued at main reception to authorized individuals for access to customer space.



Standards and Compliance


TELEHOUSE VIETNAM has been awarded the ISO/IEC 27001 Information Security Management. This specifies the requirements for establishing, implementing, operating, monitoring, reviewing, maintaining and improving a documented Information Security Management System within the context of the organization's overall business risks including specific requreiments for the implementation of security controls.

 
URL

Specifications
Building
Location
TELEHOUSE HANOI
Provided Area
950m2
Ceiling Height
2,650mm
Power Supply
Building Power
Receiving
2,500kVA (Power received via loop distribution)
Emergency
Generator
N + 1
UPS
N + 1
Power / Rack
2.0 -4.0 KVA
Climate
Control
CRAC Config
N + 1
O&M
Operation
Hour
24/7 (including Operations, Maintenance)
Security
24/7 CCTV, Bionetric authentication
Others
Certifications
ISO/IEC 27001 ISMS / ISO 9001
BCP Solution
Yes
Connectivity
Vietnam Data Communication Company (VDC)
FPT telecom
Viettel
CMC
VNPT
VTC
VTN
*Other carriers will be available if neccesary.